How big of a headache are you suffering from because of how many dishwasher manufacturers in the market in the market?
Let me just point out the Bosch and Whirlpool, for instance. Each brand comprises so many series and models that you might require more coffee to stay awake by the time you finish researching.
However, I will compress all the information of Bosch vs. Whirlpool dishwasher into this brief article. It will definitely assist you in selecting an unwavering target.
This is what we all want – to have a strong will to focus on a brand without other distractions.
Now, all you have to do is read the benefits each brand specializes in that fits according to your kitchen interior/structure.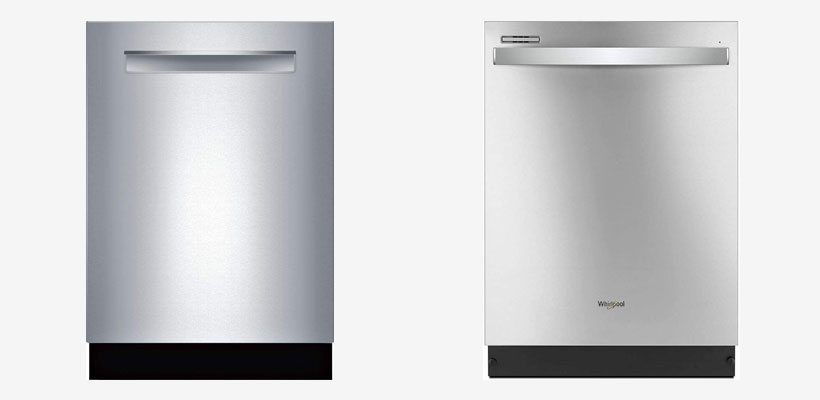 Bosch vs. Whirlpool Dishwasher
Unique Features
Let us take a note of a list of dissimilarities at a glance. Remember that a feature mentioned regarding a brand does not mean it is always available in all its models.
1. Bosch Dishwashers
The condensation drying is an intelligent technique that is highly effective for removing any residue from leftover scraps.
Newer models even add a feature called AutoAir, where the door pops open after finishing the cycle to get rid of extra moisture. Other higher quality units offer Crystal Dry option that bone dries the dishes.
The interior lights are an extra convenience that supports late-night visibility without turning on the kitchen lights. Only premium models include this option.
Now, many areas have hard water issues to deal with. Therefore, the water softener function is a huge relief to those families who are tired of noticing calcium spots.
Additionally, the leak prevention system can identify leaks to prevent flooding on the floor. It will automatically turn off the waterline.
You can prolong the drying duration by using the Extra Dry option. The high temp wash cycle will ensure residue-free cleaning.
All the Bosch dishwashers come with the 3rd Rack. It is an additional rack to store the cutleries and other small items, allowing more space at the bottom rack. Whirlpool does not have this feature unless it is a recent model.
2. Whirlpool Dishwashers
There are about twenty-one spray nozzles with extreme pressure in the all-around spraying mechanism. It ensures that each dirty item is washed and rinsed thoroughly.
Whirlpool also uses the traditional heating method of drying that is found below the tub. While the technique can cause plastic dish meltdown, it is highly effective for the rest.
Of course, the smart connection feature is available in the latest models only. However, one can acquire it without spending much. You can connect the appliance with Google Home, Nest, and Alexa Assistant for further benefits online.
Design
Despite all the hype, we always return to the blended design to go with our kitchen environment. The design of a model is what catches our eye first.
Whirlpool dishwashers are popular with versatile colors, an unquestionable feature to match your kitchen interior. Some high-end models, like WDT710PAHZ, even offer fingerprint lock systems for households with children running about.
Bosch dishwashers are always running a step ahead with trendy adaptations. For example, have you checked SHP865ZD5N catching up with numerous features that include modern technology?
It offers scratch-free doors, AutoDry, stainless steel design, etc. However, no brand can compete with their ADA dishwashers – a revolutionary advantage for people with disabilities.
Design Winner: Tie
Check Price: Bosch SHP865ZD5N Dishwasher →
Check Price: Whirlpool WDT710PAHZ Dishwasher →
Noise
This is where Bosch dishwashers lead the market with SHP865ZD5N and its ultra-quiet operation. The family members will not even notice the machine running in the background. So, you can even get the loading started with guests present, with no distraction or whatsoever.
Other models range the noise levels from 38 dB to approximately 50 dB, with 38 dB being equivalent to the noise made by the rustling of leaves.
I have to say Whirlpool has made the cut only because of the reasonable price points. The units offer 47 dB to around 64 dB noise levels ranging within various price tags.
In case you do not know, the 47 dB to 64 dB noise is equivalent to the sound of normal conversations. So, you will be able to hear the machine in the background that some may find irritating.
Noise Winner: Bosch
Check Price: Bosch SHP865ZD5N Dishwasher →
Handles
Which brand accommodates more handle style options? Once again, the variety of models point out to the Bosch manufacturer. It offers unique sets control features along with different handle types.
The pocket, recessed, towel bar, scoop handles are distributed among various Bosch dishwasher series. Therefore, even the control panels set out to deliver unique designs to match the style.
As you can see the Bosch SHP865ZD5N offers a pocket handle, one of the popular styles these days.
On the other hand, Whirlpool dishwasher models focus solely on different themed towel bar handles, including the WDT710PAHZ model. A few new units, however, provide scoop or recessed handles.
Handles Winner: Bosch
Check Price: Bosch SHP865ZD5N Dishwasher →
Durability
As long as a dishwasher can uphold constant usage without any damage, it can guarantee reliable longevity. This quality can vary based on the dishwasher model, how you maintain it, or manufacturing grade.
The higher-end the parts are, the lesser the need for repairing. Nevertheless, even a world-class brand dishwasher unit can show signs of part impairment.
This is why apart from the product durability period, you should consider the availability of the spare parts.
Bosch SHP865ZD5N provides a superb, long-lasting lifespan that can surpass a regular dishwasher timeline. It will be about ten to twelve years before you have to worry about repairs.
However, Whirlpool WDT710PAHZ might not assure such extended robustness. The good news is that the parts are USA-made, making repairs/spare parts purchase much cheaper and common than Bosch dishwashers.
Durability Winner: Bosch
Check Price: Bosch SHP865ZD5N Dishwasher →
Budget
Bosch is expensive if you consider the recent models. Whirlpool, in contrast, offers a great range of units to choose from within the budget scale.
If you pick entry-level Bosch dishwashers like the SHEM3AY52N in 100 Series, you can get a sturdy one without breaking the thousand-dollar limit. Unfortunately, it would mean cutting down on several features.
Keep in mind that the Bosch dishwasher pricing scale begins from $500. The Whirlpool dishwashers do not just have numerous selections; but also have a pricing point starting from $400 only.
This range onwards comprises pretty much 90% of high-grade features with up-to-date designs. That is why WDT710PAHZ is a budget-friendly option despite the recent release.
Budget Winner: Whirlpool
Check Price: Whirlpool WDT710PAHZ Dishwasher →
Bosch and Whirlpool Similarities
They are two different brands with entirely distinctive designs. And they still consist of a few parallel lines with some major aspects. What are they?
Well, both brands offer compact dishwasher models for small kitchens. However, they have different cycle numbers but equally effective programs for intensive cleaning, sanitizing, etc.
Bosch and Whirlpool dishwasher units comprise stainless interior/tub, 3rd rack, and delicate cycle program. Although, only a few Whirlpool advanced models offer the program.
Undoubtedly, both dishwasher brands are capable of handling small loads while being efficient with water and energy.
Final Words
The reason Bosch SHP865ZD5N Dishwasher is always a step ahead of Whirlpool dishwashers is because of the minimal noise level. On the other side, Whirlpool WDT710PAHZ Dishwasher should be a solid choice for people with a tight budget but with a contemporary style in mind.
Whatever you select, be in peace that both brands are reliable internationally. It is all about how much you are willing to spend to experience the best.