How do you get to pick between two favorite dishwasher brands? If they are Maytag and Bosch, all the more reason to grab a seat and get that intense expression on your face.
I am just kidding – it is not that difficult once you narrow down the pros and cons of each manufacturer. You can slowly move on to the dishwasher unit selection from there.
But first, deciding whether to pick a Maytag or a Bosch dishwasher is the initial battle you will have to overcome. And I am here to help you with that without boring you to sleep saying something lengthy.
Let us begin with the design!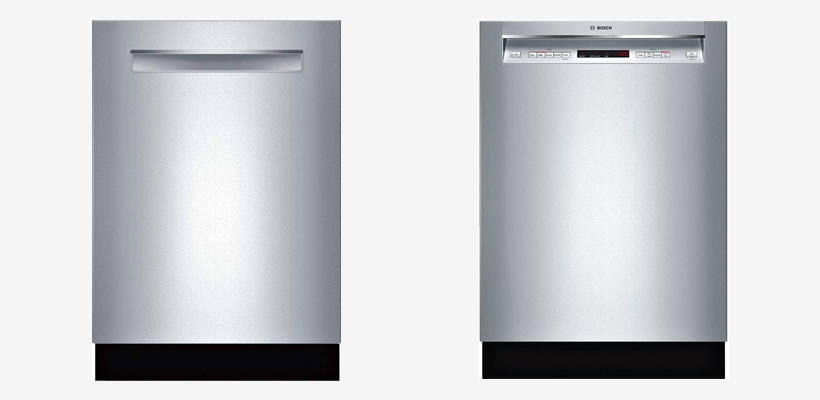 Maytag vs. Dishwasher: How Are They Different?
Here are some essential features of both brands to distinguish their differences at one glace.
1. Maytag Dishwashers
The Maytag dishwashers are all about smart connectivity. Therefore, you can gain downloadable cycles, auto replenishment service through Maytag app, and easy control from anywhere.
Now, the latest models consist of dual power filtration to get rid of food particles. But all units have the water softening feature.
Most of them come with 5 or 6 cycles, including the PowerBlast cycle that delivers heavy-duty cleaning for stubborn residues. You will love the almost unnoticeable light noise in the background that does not get in your head.
Furthermore, you will not have to worry about repairs for ten years or more.
2. Bosch Dishwashers
The Bosch dishwashers, on the other hand, avail smart connections only in the advanced units. Still, all the units include super convenient functions for the regular 6 to 7 wash cycles.
These models use the condensation drying method for a residue-free cleaning, while the AutoAir technique effectively dries the washed dishes further.
The best functions of the Bosch dishwashers are the silent operation starting from 40 dB and excellent flexibility with racks. Besides, some units feature ADA facilities with interior lights too.
You can expect a Bosch dishwasher to run for at least 15 years.
Dishwasher Style/Design
What is it that first catches our eyes? The exterior design and outlook are just as important as the interior one.
Although I would not pay much attention to it except the handle and control panel area, it is still worth the money.
Bosch dishwashers are super qualified when it comes to a sleek design that blends with various kitchen environments. You can choose a series or unit that offers different handle styles, additional features, or even scratch-resistant doors.
My favorite picks are the SHEM63W55N in 300 Series and SHP878ZD5N in 800 Series.
What I love most are the ADA dishwashers to ensure ease of use for disabled people. I suppose no one can beat that for a while.
Maytag, on the contrary, is simple. The brand is a sideline of Whirlpool but offers variable dishwasher units under the Maytag name. It primarily focuses on the functions rather than the look.
So, some might find the design too noticeable amidst the kitchen interior. The majority of the structure is laid out to fit plenty of dirty dishes. However, it might often seem cramped.
Yet the Maytag MDB4949SHZ is a unit to keep on the list.
Dishwasher Style/Design Winner: Bosch
Check Price: Bosch SHEM63W55N in 300 Series →
Check Price: Bosch SHP878ZD5N in 800 Series →
DB Level (Noise)
First, how do you determine how high the noise is? I am not an expert on this – but the term decibel (dB) explains the sound level.
For example, 30 dB is similar to the noise you notice in a super quiet rural area. It is the distant noise that barely bothers you. The 40 dB is how a silent library is like, or bird calls from far away.
Now, if you consider 50 dB or 60 dB, they are clearly a few levels higher. Think of low conversation or background sound in cafes.
The Maytag MDB4949SHZ has sound-absorbing insulation that muffles the noise at 50 dB level. It can vary based on the unit design. Only a handful of models offer a whisper operation of 47 dB.
What I am trying to say is that the Maytag dishwasher will be within earshot in the background.
Bosch SHP878ZD5N in 800 Series is the boss of practically muting that noise level to 40 dB! You will not even remember the machine is on at all. Of course, there are entry-level Bosch units where the sound is slightly noticeable.
The 800 or 300 Series models offer plenty to choose from without worrying about the washing noise in the kitchen.
DB Level Winner: Bosch
Check Price: Bosch SHP878ZD5N in 800 Series →
Longevity
What makes a dishwasher last longer than the guaranteed lifespan? Some customers will give vague answers relating to maintenance, while others will immediately grab the brand quality card.
Frankly, both reasons are valid. You purchase a high-end dishwasher from a reputed manufacturer, long-term durability is expected. However, if the appliance shows signs of damage within a couple of years, what is the point?
On the other hand, what if this damage on a particular part occurs after the promised lifespan, but it is hard to procure replacement?
Keeping these two factors in mind, Maytag MDB4949SHZ offers spare components all over the states. Nevertheless, the reliability of Maytag dishwashers is questionable, almost disappointing.
As for the Bosch SHEM63W55N in 300 Series or SHP878ZD5N in 800 Series dishwashers, they are sturdy, completely reliable for as long as it runs. It will probably take years before you worry about the machine.
However, even a single spare part is tricky to acquire within the country. You might have to wait in line – figuratively speaking.
Longevity Winner: Bosch
Check Price: Bosch SHEM63W55N in 300 Series →
Check Price: Bosch SHP878ZD5N in 800 Series →
Price
No matter how many awesome upgrades the new Bosch dishwashers provide, not everyone can afford them. Plus, there is the point of suitability when the apartment kitchens are usually small in the city.
This department makes all the dreamy wishes burn down and face reality. A tight budget will force you to give up on most high-tech features the SHP878ZD5N in 800 Series deliver and focus on the older ones.
Even then, Bosch starts its pricing point from $500 if you consider the SHEM3AY52N in 100 Series or SHEM63W55N in 300 Series models. The 800 Series is ultra-modern with impressive smart features, but the cost starts from $700.
All of them are outstanding units, but if your hands are tied with a limited budget, I suggest leveling down to meet the basic requirements.
That is why Maytag is a budget-friendly dishwasher brand to go for. It is versatile with size, height, primary features, etc. So, you will not be losing much when opting for it.
Maytag dishwasher price range starts from $500, which can be reduced further if you purchase it during seasonal sales/rebates. It is another reason to opt for the Maytag MDB7959SKZ.
Price Winner: Maytag
Check Price: Maytag MDB4949SHZ →
Maytag and Bosch Dishwashers: How Are They Alike?
In one way or the other, Maytag and Bosch have some similar features. These features are the reasons most consumers face an indecisive dilemma. But these are also the causes to add them to your purchase list.
For example, both offer well-made stainless steel tubs, a 3rd rack to increase loading space, and detects water leaks to shut down before flooding.
Plus, saving energy and water is the specialty of these dishwashers. All the units in Maytag and Bosch come with convenient handles and control panels.
What makes the users more uncertain is the manufacturing base in the USA. It makes picking a brand a harder decision than ever.
Conclusion
Alright, you have got all the information you need to make a sound decision based on your kitchen environment.
While Bosch has been a reliable name for many years, Maytag discounts your effort and stress with a low-price tag. Plus, it offers more smart connectivity that is available only in Bosch advanced models.
I would still opt for Bosch SHEM63W55N in 300 Series despite the lack of spare components during repairs if it were up to me. It is still in the early stage for a sound verdict. So, think about the noise level, size, interior quality, durability, etc., and slowly come up with a choice.
Good luck with the dirty dishes!