It is one of those big moments when you have to decide between two brands of an appliance.
Choosing a dishwasher is no game; trust me on that. However, I have focused on the Asko and Miele dishwashers, among other brands. This will help you narrow down the results with quick elimination.
It is still a huge decision to make anyway. You have to look for the factors like size, compatibility, easy access to suitable detergent, loading amount, and washing power. Do not forget the budget either.
After going through multiple threads of customer reviews and my experience, this is what I have gathered on Asko vs. Miele dishwasher. Do you wish to know in detail?

Scroll down for the in-depth dissection.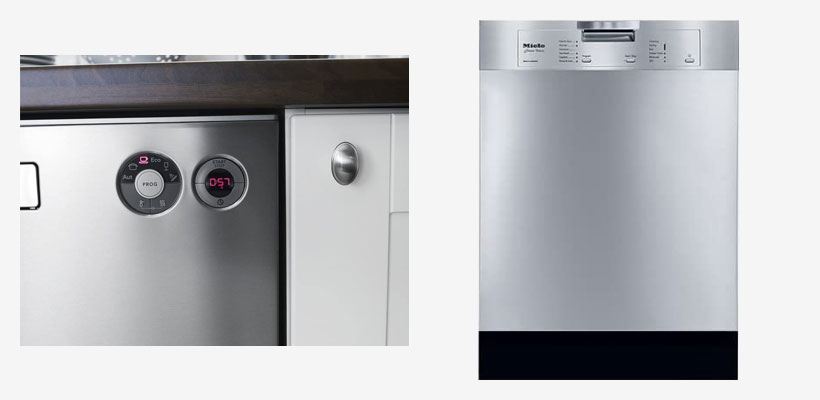 Asko vs. Miele Dishwasher
Overview
Learning of the design type is important. It can help you find whether it is Asko or Miele dishwasher that fits best for the kitchen.
1. Asko Dishwashers
This brand went for the Scandinavian minimal style to create an almost nonexistent machine in the background. The long list of settings and modes will take up the whole page.
So, I will give you the specifics only. People love shortcuts with appliances, and that is precisely what Asko dishwashers are aimed for.
The easy adaptation of the dishwasher is possible via Sleep Night which enables silent wash cycles with minimized water pressure.
Another program is called the Green Mode that lowers the temperature to save power and water. This mode may take a long to finish the cycles, but the dishes come out sparkly clean all the same.
The Speed Mode eliminates 50% of the wash duration with maximum water and power consumption. Lastly, Intensive Mode elevates the water pressure and temperature to clean stubborn scrapes on dirty dishes.
Plus, the door contains a digital control panel, while the racks offer numerous dishes to settle in. Lastly, all Asko dishwasher models are seamless with stainless steel design inside and out.
2. Miele Dishwashers
There are many units for you to choose from. The basic structure comprises fully integrated, semi-integrated, or built-under dishwashers.
Each model is inaugurated with different specifications and designs. However, you can expect an overall steel structure in all of them. Some units offer a sleek handle, while others come with an automated door opening system.
The controls are usually hidden, but some models offer digital displays and buttons visible on the interface.
Miele dishwashers do not hesitate to amp the interior space with more baskets and trays. There are QuickIntenseWash Program, Extra Clean, Express, SaniWash, Delay Start, and many other features to look forward to.
If you wish to pick from diverse designs and units, Miele dishwashers will provide you just that.
Features
It all makes the difference right here. How advanced are the features in either of the brands? Do you seek innovation or convenience for your dishes?
Asko Dishwasher – Asko D5434XLS
The unit offers a built-in stainless steel design, alongside multiple programs and modes to work with. You will love the easy-to-press buttons on display for overall convenience.
From 7 spraying zones to reach each corner to sturdy racks and a separate rinsing system for each basket, the machine is all-in-one. It is a better substitute for high-end mainstream brands that saves water and energy with selected programs.
Plus, the drying function delivers minimal moisture evacuation. Let us not forget the auto door opening system after completion.
2. Miele Dishwasher – Miele Futura Classic Series G4205SS
Most Miele Dishwashers come in three different categories with either stainless steel or a clean touch steel structure. This means convenient designs in every model.
The G4205SS unit offers a CleanAir drying option, intelligent water-saving layout, and flexible loading baskets to adjust easily.
If consider the minimal noise level with numerous washing programs for particular dish sensitivity, the dishwasher is quite a catch. Of course, it even has a less than an hour cleaning feature for few dirty dishes.
Feature Winner: Tie
Check Price: Miele Futura Classic Series G4205SS Dishwasher→
Check Price: Asko D5434XLS Dishwasher →
Design
There were various designs you can choose from if you visit the Miele dishwasher official site. However, it only confused my traditional mind further.
On the other hand, if you look at them from a different angle, you will achieve plenty of modernized options to save time and effort. Miele's Futura Classic Series G4205SS is one such example.
Now, Asko dishwashers are pretty straightforward about the design and build. Each model offers familiar minimalism that not only fits in the kitchen but is also soothing to look at.
Of course, it depends on your taste. But take a look at D5434XLS from Asko to know what I mean.
Design Winner: Miele
Check Price: Miele Futura Classic Series G4205SS Dishwasher→
Quality
No matter how the appliances appear to be, the main concern is always about their quality.
Similarly, Asko dishwashers are easy to operate and have simple shortcuts. The Miele dishwashers are no different. Both offer pretty much the same features, except the drying system in Asko D5434XLS tends to be more reliable.
Even the display panels, superior rack designs, and noise level are almost head to head in a battle between the two brands.
So how do you make the decision?
Quality Winner: Asko
Check Price: Asko D5434XLS Dishwasher →
Longevity
This is where it all changes. Some consumers favored Miele, while others were adamant about giving up on Asko.
If you ask my opinion, Asko wins the competition here. Yes, the sturdy build stainless steel designs with reliable dishwashing programs of D5434XLS can last for years.
And with proper maintenance, you will gain an additional decade along with the standard 15 years' worth of service.
The Miele dishwashers will not disappoint you either but lack such extended durability as Asko. However, their energy and water-saving features in G4205SS make up for the few lost years.
Longevity Winner: Tie
Check Price: Miele Futura Classic Series G4205SS Dishwasher→
Check Price: Asko D5434XLS Dishwasher →
Price
Now the main hick of the topic – the budget will determine whether you are an Asko person or a Miele person.
Meile dishwashers are pricy in terms of broad specifications and verities of choices. I did not expect anything less either. However, some may consider opting for the next best alternative, Asko D5434XLS, due to the tight budget.
You will not miss out much even if you pick Asko dishwashers. They are the unique and reliable version of the popular brands in the market.
Whatever you select, remember that you will have to spend a few extra hundreds to acquire a Miele dishwasher, like the G 7106 SCU. One can get an Asko dishwasher unit within $1,000.
Price Winner: Asko
Check Price: Asko D5434XLS Dishwasher →
Conclusion
Finally, what do you make of this comparison? Let me tell you in advance that each brand invests happily in modern technology to avail you of the best comfort at home.
Of course, there will be slight disagreements between the customers regarding the ease of use. I considered each review, along with personal experience.
This had helped me widen my view on both brands. After contemplating the durability, price, and heavy-duty cleaning functions, my unbiased vote goes to the Check Price: Asko D5434XLS Dishwasher for overall value.
Anyhow, I feel much relieved to have shared this with you folks. The decision is now in your hands. The only reason I did not select Miele is due to the cost factor.
If you do not mind spending a little more, Miele dishwashers equally deliver superior operation.
So, good luck with and happy loading!