Why might we look for the best dishwasher for sanitizing? The majority of dishwashers offer a conventional cycle that cleans dishes to a standard level and a heavy-duty cycle for dishes that require a more thorough wash. However, even with those deep-cleaning options, are your plates germ-free? Although your dishes may appear spotless, there is a chance bacteria may still be occupying the surface's exterior. The sanitization cycles found on some dishwashers have been certified to reduce 99.999 percent of bacteria that may be found on dishes – ensuring a more thorough and sanitary cleaning.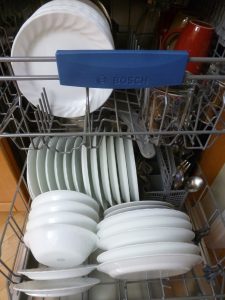 Read on to discover our top 5 sanitizing dishwashers. These dishwashers guarantee a spotless and sanitary cleaning of your dishes every time you use the sanitize cycle.
Best dishwasher for sanitizing
The Best dishwasher for sanitizing Bosch 300 series dishwasher SHEM63W55N has all the functions, outstanding appearance, and low noise levels you could ask for in a dishwasher. However, compared to the other alternatives we studied; this model doesn't have as many cycle settings. Bosch dishwasher also makes top-controlled and front-controlled machines, although this specific model falls within the first group.
In general, we don't like front-controlled designs since they sometimes require you to crouch down in front of the machine to see what you're doing. The 300 Series SHEM63W55N defies the trend a bit, as its front-facing control panel is slightly slanted upwards inside the pocket-handle recess, allowing you to configure your cycles without stooping too low. Additionally, we appreciate that this dishwasher includes push buttons because, sometimes, we find touch controls to be a little stiff and difficult to use. You might wish to keep your children at a distance because this model does not have a fingerprint-resistant facade.
Pros:
Sixteen place sets

Use of Precision Wash

Extremely silent operation
Cons:
Fewer cycles than some dishwashers

Energy efficiency is not the best in class
Don't settle for less; invest in a stainless-steel dishwasher from Frigidaire for your kitchen. You won't regret switching to Frigidaire to handle heavy dish loads for the best cleaning experience because it is the best dishwasher for sanitizing and has several cycle choices, a heated dry system, and 12-place settings. The greatest part is that this dishwasher is an NSF certified dishwasher, which ensures that the sanitation cycle will eliminate 99% or more of the usual household microorganisms that have been removed from all of your bakeware, cutlery, and other items.
Pros:
A dozen place sets

A 24-hour delay in starting

52 dBA
Cons:
Aren't silent.

Loud.

No available panel choices.
There are seven wash cycles in this SHARP 24-inch high-capacity dishwasher, which can hold up to 14 place settings. To fully clean contaminated dishes, the Power Wash function employs a third sprayer, and the Soil Sensor will automatically alter the wash settings according to the amount of soil in each load. The ENERGY STAR® certified dishwasher's two inside LED lights make it simple to see within, and the Smooth Glide Rails make loading and unloading simple. Reading Room You won't even notice it's running since the silent wash cycle cleans your dishes at only 45 dBA, it has a lower noise level than most refrigerators.
Use the Half Load setting to reduce water and energy use on a tiny load or the third rack's changeable position to load all of your dishes at once. This NSF dishwasher manual has a Sanitize option that completely cleans your dishes while eradicating 99.9% of typical household germs using high temperatures. Choose the Heated Dry setting to finish each cycle with dishes that are ready for the cabinet.
Pros:
Cons:
Expensive

Mediocre cleaning ability
Best dishwasher detergent with the KitchenAid KDTE334GPS Dishwasher, you will definitely get the best result. These are just a few of the features that the KitchenAid KDTE334GPS dishwasher offers. It is a beautiful, silent appliance that would add style to any kitchen. This dishwasher would look wonderful in a brand-new or renovated kitchen because of its fingerprint-resistant stainless steel, industrial design, and beautifully textured knurled handlebar. It's possible that you would choose to get the KDTE334GBS model if your taste in design is more avant-garde.
The style is modern. The KitchenAid emblem is scarcely visible because it is tucked down towards the door bottom with the controls on top. The interior's glistening stainless steel produces an astonishing 39 dBA noise level, making it impossible to detect that the machine is on. Additionally, the top and lower filters reduce sound. Like with any dishwasher, keep in mind to clean them frequently to prevent the redeposit of food particles. To ensure that every dish gets sprayed, there are 2 spray arms; the one at the bottom contains four jets.
Pros:
Play at a virtually silent 39 dBA

Many other features

Beautiful exterior
Cons:
Mediocre cleaning results 
The strength of flexibility in your kitchen is a characteristic of this Maytag Twenty-four. Best dishwasher for sanitizing portable JetClean® Plus dishwasher. The motor is put through testing for double the typical dishwashing life. The fact that it can thoroughly clean up to 10 place settings makes it more than merely trustworthy. Food is ground up in a sturdy Four-blade stainless steel chopper to help avoid spots on dinnerware. To remove difficult food particles, the Jetclean® Plus wash system employs high-pressure jets. Additionally, the High-Temperature Wash option turns up the heat for even better cleaning results. 
Pros:
Numerous alternatives to suit your demands

Choices for Power Wash and Quick Cycle

Robust and trustworthy
Cons:
Not every Maytag dryer has Wi-Fi connectivity or smart features.
Not the most luxurious choice
FAQ 
How good are dishwashers at sanitizing?
Hotter water and longer wash durations are used in dishwasher sanitizing cycles to destroy 99.99% of food soil germs.
Do all dishwashers sanitize?
While all dishwasher models effectively clean your dishes, certain models come with a sanitizing cycle for an extra boost of cleanliness and assurance.
Are dishwashers for washing or sanitizing?
For both washing and sterilization.