Do you feel a bit annoyed or frustrated because there are water stains on your glasses and dishes after you've cleaned them?
Maybe you have already invested in a dishwasher and have tested different detergents yet nothing seems to make an impact on the stains of hard water on your dishes.
That's when you decided you need a special dishwasher that can deal with hard water.
Before We Begin…
You need to know that hard water doesn't only leave stains on your glasses and dishes but it can actually damage your dishwasher.
It can form layers of residue inside your dishwasher…
It can reduce the effectiveness of your dishwasher by impacting the heating element inside the dishwasher and preventing the thermostat from reading the temperatures accurately.
And it can also restrict water flow inside your dishwasher which can cause actual damage to it.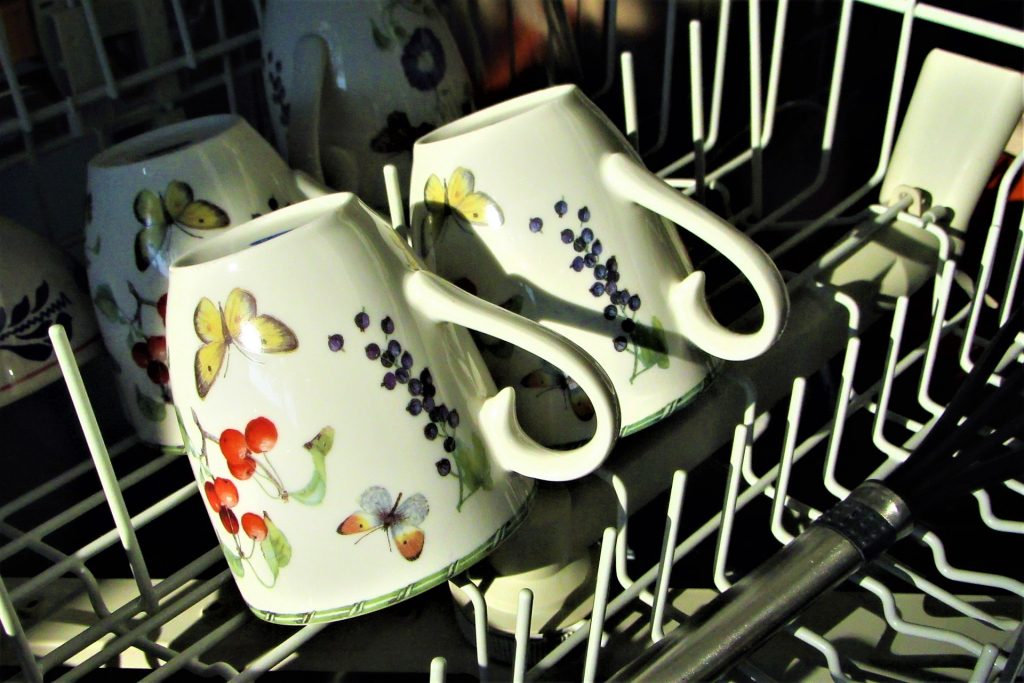 What We are Looking For…
Of all the different kinds of dishwashers available what we are looking for is a dishwasher that has a rinse-aid function. Rinse aid helps remove any hard water residue from your glasses and dishes and makes your dishes bright, clean, and shiny just like you wish.
Best Dishwasher for Hard Water (The Ultimate List)
This Professional Farbeware Portable Dishwasher is designed for small spaces, it's the perfect choice for renters and college students who don't cook each and every day or have a small family that doesn't have many dishes that need to be cleaned every day.
It has a rinse-aid feature which means you will get spotless dishes and sparkling glasses.
It's a great choice for small spaces or for renters because it is easy to move and not that hard to install.
From a technical standpoint the FCD06ABBWHA competes head-to-head with the best dishwashers available to clean your dishes, it's small but it's efficient and can do the job just like you want.
Just like any other product it has a couple of drawbacks such as, obviously, its small size, which can be considered an advantage and a disadvantage at the same time.
Bulk items also might not fit into the dishwasher caddy which means you will have to clean them manually.
But again, it's one of the best options for small spaces, renters, and college students.
It's also Energy Star certified, which means it's much more efficient and environmentally friendly than other products.
Pros:
Great for small spaces
Does a great job at cleaning the dishes
Has a rinse-aid function which means sparkling glasses come out of the dishwasher
Energy Star certified
Cons:
Small size
Can't handle bulky items
If you're living in a small space and sick of doing dishes by hand the Comfee Mini Dishwasher is another great option for you to pick.
It's a great option for small spaces, and it has the rinse-aid function we are looking for so your glasses and dishes come out without any stains.
It comes packaged nicely and safely so you don't have to worry about your product being damaged in shipping.
It best fits those who live in a small space and want to save energy for more interesting projects other than doing the dishes.
You can manually fill it with water through the water tank or you can hook it up to the sink and fill it that way if you prefer. It's flexible in that manner which is pretty aligned with its whole purpose which is to be portable and easy to use.
It comes with 8 different cycles heavy, normal, baby-care, ECO, glass, and speed with three more cleaning options, including speed, mini-party, and rinse. This probably covers all you'd need from a dishwasher of this size and capacity.
In simple terms, this dishwasher saves time, does a great job at washing the dishes, and is an amazing choice for small spaces.
Again, the size of this dishwasher is an advantage and a disadvantage, its small size could be annoying to you if you have many dishes and rely on washing your dishes frequently. And you might need extra drying if you want your dishes to come out dry.
It's also Energy Star certified, which means it's much more efficient than many dishwashers that don't have this certificate.
Pros:
A great choice for small spaces
Saves time
Lots of washing cycles
Cons:
Small size
You might need extra drying
Another great option to choose from for a small household, for dorms, or if you move a lot and want something easy to pick is the Novete Compact dishwasher.
It has an elegant design that takes into consideration the aesthetic look of the dishwasher and has a compact size that's practical compared to the traditional bulky dishwasher that takes up a lot of space.
It has 5 washing cycles, including a fruit rinse cycle, even though you cannot use a rinse aid to protect your dishes from hard water stains it has a great filtration system that prevents food residue and other large particles from going through your dishes.
It also has two spray arms that provide internal water heating that can heat up to 167 degrees Fahrenheit, this ensures that your dishes are properly cleansed and safe to use.
As for every compact-sized dishwasher, the Novete Compact dishwasher is small in size and can't handle large items, so it might not be the best choice for you if you're doing bulk work.
Unlike some other dishwashers, the Novete Compact dishwasher has a dry mode that will ensure that your dishes come out from the dishwasher dry and ready to use.
Pros:
Compact
Elegant Design
Excellent Heating System
Dry Mode
Cons:
Small Size
Can't handle large items
Conclusion: My Recommendation
Personally, I am convinced that the Farberware Professional FCD06ABBWHA satisfies all the requirements that you'd be looking for in a portable dishwasher that can deal with hard water.
It has the rinse aid option, so you are sure to have your glasses and dishes sparkling clean out of the dishwasher, and it is compact in size so it's a perfect choice for small households or dorm.
And above all, it's Energy Star certified, which means it's eco-friendly and good for the environment which is a great addition.
FAQ:
How Can I Make My Dishwasher Work Better with Hard Water?
In order to make your dishwasher work better with hard water you will need to use a rinse aid, in addition, to regularly cleaning the inside of your dishwasher with vinegar to remove any residue that stacks up inside.
Will hard water ruin a dishwasher?
Hard water can indeed damage your dishwasher and reduce its performance since the layers of residue stacked inside your dishwasher will prevent water from flowing and prevent heat sensors from measuring temperatures accurately.
Can you put vinegar in the dishwasher for hard water?
Yes, vinegar is indeed a great option for dealing with removing any residue inside your dishwasher stacked because of hard water and it's great as a maintenance tool so your dishwasher can live longer.
How do I prevent calcium buildup in my dishwasher?
The best strategy for you is to either use a rinse aid or to regularly clean the inside of the dishwasher with vinegar, or optimally do both.
Is there a dishwasher detergent for hard water?
It's not a detergent, it's called a rinse aid, its main purpose is to remove any stains that are stuck at your dishes or glasses after they've been cleaned.
What dissolves hard water deposits in the dishwasher?
Vinegar is a great choice for you to clean the hard water build-up inside your dishwasher to ensure maximum performance for your dishwasher.